May 29 – 31, 2019 in Bend, Oregon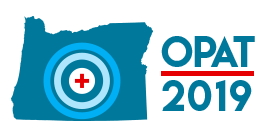 When: May 29 – 31, 2019
Where: The Riverhouse Resort, 3075 N. Business 97, Bend, OR 97703
Registration: EventBrite
The 2019 OPAT conference is the must-attend event for those interested in meeting the challenge of opioids, pain and addiction. This year's conference will be held at the Riverhouse in Bend, providing a central location that will reach interested stakeholders from around the state.
We invite you to join us to share your expertise, experience, and ideas, and to network with others working to lift up all Oregonians on a path to wellness, recovery and prevention.
Pre-conference Training
In addition to conference sessions and keynotes, pre-conference trainings are offered on Wednesday, May 29th. Tickets for the pre-conference trainings are available through Eventbrite and must be purchased separately from general conference registration.
For more information, contact Elizabeth White, MPA at 503.244.5211 or visit the OPAT 2019 Conference Website.
Event Date: 05/29/2019