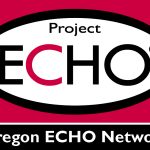 Expand your knowledge base with persistent pain and addiction medicine programs offered by Oregon ECHO Network.
The Oregon ECHO Network enhances the ability of primary care physicians and their teams to treat chronic and complex illnesses in their hometown clinic and increases patient access to care. It is modeled after the University of New Mexico's Project ECHO® (Extension for Community Healthcare Outcomes).
The Oregon ECHO Network connects primary care providers with specialists for live, weekly video teleconferences. These one-hour virtual clinics give primary care physicians real-time reviews of complex cases. Expert specialists provide written treatment recommendations. Each session also includes a 15- to 20-minute didactic presentation. CME credits and Maintenance of Certification credits for Internal Medicine, Family Medicine, and Pediatrics are provided at no cost.
To learn more, go to www.oregonechonetwork.org.