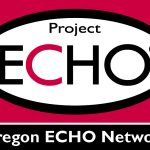 Earn an OHSU Addiction Medicine ECHO Certificate
For several years now, the OHSU Section of Addiction Medicine, with support from the Oregon ECHO Network (OEN), has offered programs that feature vital, evidence-based education for Oregon clinicians treating substance use disorder (SUD) and chronic pain in patients.
Now, those who participate in these programs can sign up to receive an OHSU Addiction Medicine ECHO Certificate.
The goal of the certificate program is to foster leadership and expertise in the diagnosis, treatment and systems development for the effective care of patients with substance use disorders and chronic pain across a variety of clinical settings.
As a member of the OHSU Addiction Medicine ECHO Certificate Community, you will receive individual mentoring from an OHSU Addiction Medicine Fellow. Other benefits include greater knowledge, skills, and confidence to treat patients with substance use disorder and chronic pain. No-cost CME is awarded based on participation and attendance.
Learn more about the OHSU Addiction Medicine ECHO Certificate Program.
New to ECHO? The Oregon ECHO Network enhances the ability of primary care physicians and their teams to treat chronic and complex illnesses in their hometown clinic and increases patient access to care. It is modeled after the University of New Mexico's Project ECHO® (Extension for Community Healthcare Outcomes). ECHO programs use video conferencing technology to link healthcare workers around Oregon to specialist faculty for interactive learning sessions that include a brief didactic as well as a case or practice situation presentation.
To learn more, go to www.oregonechonetwork.org or email oen@ohsu.edu.