HOW PAIN AND ACTIVITY WORK TOGETHER
When your patients move less and less, their brain becomes accustomed to that decrease in activity. As the brain learns pain, more and more activity becomes connected with the pain response even when they are doing things that aren't harmful.
WHAT CAN MAKE THINGS BETTER
Encouraging your patients to increase their activity helps their brain rewire itself so that they can move more easily. Some pain or discomfort as they get moving again is normal. They may be a little sore, but they are safe. Over time, they will become more active and healthy and their pain will likely decrease.
VIDEO
HANDOUT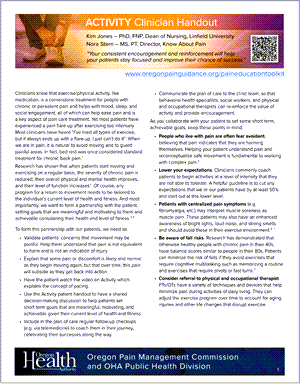 RESOURCES